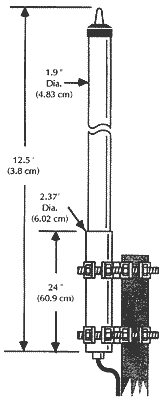 HEAVY DUTY SERIES 9 dBd GAIN
CELLULAR / TRUNKING / PAGING
Omnidirectional Fiberglass Antenna
---
Model Number
HD9-80669 (806-869 MHz.) TRUNKING
HD9-82496 (824-896 MHz.) CELLULAR
HD9-89060 (890-960 MHz.) GSM
HD9-90142 (901-942 MHz.) PAGING
HD9-92040 (920-940 MHz.) PAGING

Frequency Range: 806-960 MHz
Gain: 9 dBd (11.15 dBi)
Bandwidth: Varies with model (see above)
V.S.W.R.: 1.5:1
Polarization: Vertical
Power Rating: 600 Watts Maximum
Termination: Type N Female or 7/16
Vertical Aperture (3 dB from max): 7 Degrees
Weight: 17 lb. (7.7 kg.)
Wind Load
(Lateral thrust @ 100 mph): 41 lb. (182 N)
Wind Area (flat plate equivalent): 1.2 sq. ft. (0.111 sq.m.)
Maximum Wind Speed: 160 mph (257 kph.)
Material

Feed Lines: Copper
Radiators: Copper

Color: Radome White
Mounting
(top or side mount): Galvanized steel mounting clamps permit mounting the antenna to a support pipe up to 3.25" O.D.
Lightning Protection: Direct Ground
Accessories: Reflector Tube (adds 3 dB directional) and Side Mount Kit optional.