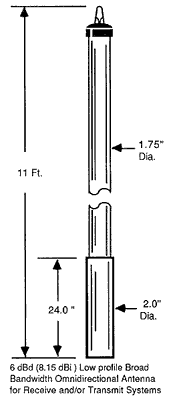 SPIRIT SERIES
Low Profile/Broad Bandwidth UHF
Omnidirectional Fiberglass Antenna
---
Model Number
HS6-40630 (406-430 MHz.)
HS6-43050 (430-450 MHz.)
HS6-45070 (450-470 MHz.)
HS6-47090 (470-490 MHz.)
HS6-49051 (490-512 MHz.)

Frequency Range: 406-512 MHz.
Gain: 6 dBd (8.15 dBi)
Bandwidth: 20 MHz.
V.S.W.R.: 1.5:1
Polarization: Vertical
Power Rating: 400 Watts Maximum Continuous
Termination: Type N Female
Vertical Aperature (3 dB from max): 15 Degrees
Weight: 10 lbs. (4.6 kg.)
Wind Load (Lateral thrust @ 100 mph): 68 lbs.
Wind Area (flat plate equivalent): .88 sq. ft. (0.081 sq.m.)
Maximum Wind Speed: 130 mph (209 kph.)
Material:

Feed Lines: Copper
Radiators: Copper

Color: Radome White
Mounting (top or side mount): Galvanized steel mounting clamps permit mounting the antenna to a support pipe up to 3.25" O.D.
Lightning Protection: Direct Ground
Accessories: Reflector Tube (adds 3 dBb directional).