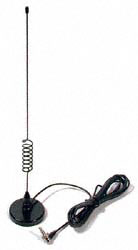 Mini Magnet Cellular Antenna
Model MC-800
---
Weighing only five ounces, this new antenna is the ultimate in convenience. It can easily be stored away in a glove compartment or briefcase. The feed line consists of RG-174 coax which has an outer diameter of 2.5 mm. This tiny coax will fit though the weather stripping of vehicle doors or windows without damage to either. A small, powerful two inch diameter magnet mount will hold to speeds of 100 mph.
Bandwidth: 800-896 MHz.
Gain: 3.2 dB.
Available in your choice of mini-UHF or TNC as well as custom fittings for the Nokia 2100 Series, Nokia 5100/6100 Series, Ericsson 300/600 Series and the Ericsson 700 Series.
10 ft. RG-174 coax.
Powerful ceramic magnet.
MC-800-N6: Nokia 5100/6100 Series (except for 5190/6190)
MC-800-N2: Nokia 2100 Series
MC-800-E: Ericsson 300/600 Series
MC-800-E7: Ericsson 700 Series
MC-800: TNC
MC-800-M: mini-UHF