C-29 Stainless Steel Spring
C-30 Chrome plated Spring
C-32 Chrome plated Ball Mount

---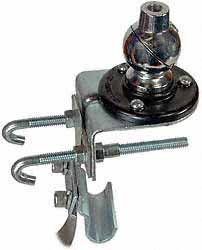 Bumper Mount
Model BM-1
Heavy duty stainless steel strap fits bumpers to 18" vertical height.
Secured by two heavy "J" bolts.
Needs only 5/16" clearance with the car.
180 degree adjustable ball for best vertical positioning.
Accepts any Hustler 3/8" x 24 thread mobile antenna.
All hardware included.
---
Coaxial Cable Leads
L-14-144 Lead

144" top quality RG-58 coaxial cable with PL-259 connector on one end and split end with lugs on the other.

L-14-240 Lead

Same as L-14-144 except 240" coaxial cable.