MODEL UHT-1
Unity Gain
VHF/UHF Antenna
UHT-1 ROOF/DECK MOUNT
Tunable from 136-500 MHz.
Installs rapidly on any flat surface (3/4" hole required).
200 watts maximum power.
Tip rod and trim chart are provided.
1/4 wave length.
15' of top quality cable is provided.
---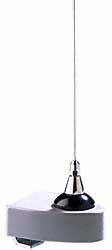 MODEL THF TRUNK LIP MOUNT
Tunable from 136-500 MHz.
No holes required for installation.
Tip rod and trim chart are provided.
15' of RG58U coax.
1/4 wavelength.
200 Watts maximum power.
---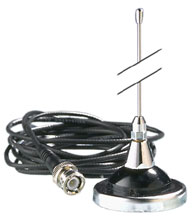 MODEL UGM
Unity Gain
Magnetic Antenna
140-500 MHz.

The UGM is a 1/4 wave magnetic mount antenna which is as convenient and portable as your hand held radio. Weighing only 5.3 ounces, the UGM coax and mount fits in the palm of your hand with room to spare. Designed specifically for portable radios, the UGM uses a seven foot length of RG-174 coax, which is a very small, flexible feedline. This coax will slip though your car window or door without damaging the weather stripping or causing leaks. It comes complete with a BNC connector installed. Although designed for vehicular use, the UGM is so portable and versatile you will find many applications. It can easily be stored in a briefcase, ready to install on a file cabinet or any handy metallic surface.
Extend the range of hand held or portable radios.
140-500 MHz., unity gain.
High efficiency, permanent magnet assembly with protective mylar cover.
Supplied complete with 10' mini-coax, BNC connector and frequency cut chart.
Stainless steel tip rod and triple chrome plated magnet assembly.